Soudage et brasage / Welding and brazing
NORMADOC vous propose ci-dessous une sélection d'ouvrages et recueils de normes indispensables pour toute personne impliquée dans n'importe quelle phase du soudage !
pour commander notre sélection de documents relatifs au soudage au choix :
Cliquez sur le bon de commande et retournez le par fax : 01 40 02 03 05 ou courrier (NORMADOC - 12 Rue de Capri - F-75012 PARIS)
De Fernand Saverino
Cet ouvrage offre une vision complète et détaillée des procédés les plus efficaces sur le soudage à la molette.
Son objectif est de vous permettre d'atteindre le « ZÉRO rupture » et d'augmenter la rentabilité de votre entreprise.
L'auteur attire l'attention sur les conséquences désastreuses des manques de connaissances sur les contrôles destructifs et non-destructifs des soudures. À travers de nombreux exemples de tests illustrés par des photographies, il vous fera découvrir les méthodes pour analyser, détecter et résoudre tous les types de défauts sur une soudure. On y retrouve le rôle important de chaque paramètre de soudage et comment en tirer un maximum d'efficacité.
Cet ouvrage, fruit de 20 ans d'expérience sur le terrain et en formation auprès des opérateurs, est également l'outil idéal de support de formation. Grâce à son questionnaire d'évaluation, il permettra de mesurer le degré de connaissance de vos personnels et de contribuer activement à leurs progrès pour atteindre rapidement un niveau d'expert dans leur domaine.
Déjà considéré par de nombreux utilisateurs comme la Bible de référence pour le soudage à la molette, il sera un guide et un compagnon indispensable pour tous débutants, techniciens, personnes chevronnées ou ingénieurs.
Procédés de soudage offre un panorama complet et détaillé des procédés de soudage courants et prend en compte leur application au coupage et au placage.

Il s'intéresse aux enjeux et aux conditions de mise en œuvre de la mécanisation et de la robotisation en même temps qu'à la question cruciale de l'environnement du soudeur et de sa sécurité. Il présente également des analyses poussées des contraintes et déformations, de la soudabilité de l'acier, du soudage de l'aluminium, de la conception des structures soudées, de la qualité et, bien entendu, des coûts.
Cet ouvrage constitue un outil de travail indispensable pour les ingénieurs en mécanique et en matériaux ainsi que pour les étudiants (BTS et IUT) du domaine. Il répond aux « Exigences minimum pour les cours théoriques, la formation pratique et les examens des soudeurs internationaux » aux niveaux spécialiste, ingénieur, technicien et praticien.
Sommaire
Soudage au gaz. Éléments d'électricité. Soudage à l'arc. Alimentation du soudage à l'arc. Soudage TIG. Soudage (à l'arc) plasma. Soudage MIG/MAG. Soudage à l'arc avec électrodes enrobées. Soudage à l'arc submergé. Procédés de soudage par pression. Autres procédés de soudage. Procédés de coupage. Techniques de rechargement et de placage. Mécanisation et robotisation du soudage. Brasage tendre et brasage. Hygiène et sécurité du soudage. Contraintes résiduelles et déformations. Soudabilité de l'acier. Soudage de l'aluminium. Conception des assemblages soudés. Assurance qualité et gestion de la qualité. Coûts du soudage
Aucune branche industrielle, aucun matériau ne peut échapper au soudage. Il est mis en oeuvre sous de multiples formes (arc électrique, résistance, friction, faisceau laser, etc.). Imposer un cadre réglementaire et normatif strict à la réalisation du soudage est rapidement devenu indispensable. Ce recueil, véritable guide de référence, rassemble plus de 108 normes ainsi que la réglementation phare de ce domaine d'activité afin d'aider l'ensemble de la profession à s'engager dans la voie de la qualité et de la sécurité. Principalement axé sur la qualification en soudage - modes opératoires et personnel - il cite également un certain nombre de normes plus générales qui apporteront un complément utile à ses utilisateurs. Préfacé par Patrick Verrier, Président de la commission UNM CNS SENS " soudage, stratégie et environnement ".
Structural Welding Code—Steel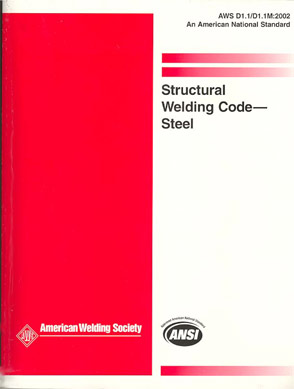 For everyone involved in any phase of welding steel structures - engineers, detailers, fabricators, erectors, inspectors, etc. - the new D1.1 spells out the requirements for design, procedures, qualification, fabrication, inspection, and repair of pipe, plate, and structural shapes that are subject to either static or cyclical stresses. U.S. Customary and SI units of measurement.

This code covers the welding requirements for any type of welded structure made from the commonly used carbon and low-alloy constructional steels. Clauses 1 through 8 constitute a body of rules for the regulation of welding in steel construction. There are eight normative and twelve informative annexes in this code.
ASTM Standards for Welding
Get 68 standards that are referenced within the AWS Structural Welding Code D1.1. This compilation is a valuable resource that will guide and assist:
• Quality Assurance/Compliance Professionals
• Inspectors
• Supervisors
• Quality-Conscious Engineers and Managers
This third edition contains a comprehensive list of ASTM documents referenced by the AWS Code for all types of welded structure made from commonly-used carbon and low alloy steels.
Some standards referenced in the D1.1 code have been withdrawn or superseded by newer ASTM standards, and these current versions are also included..
BPVC-IX-2015, Section IX of the ASME Boiler and Pressure Vessel Code relates to the qualification of welders, welding operators, brazers, and brazing operators and the procedures employed in welding of brazing in accordance with the ASME Boiler and Pressure Vessel Code and the ASME B31 Code for Pressure Piping.
Section IX establishes the basic criteria for welding and brazing which are observed in the preparation of welding and brazing requirements that affect procedure and performance.
The purpose of the Welding Procedure Specification (WPS) and Procedure Qualification Record (PQR) is to determine that the weldment proposed for construction is capable of having the required properties for its intended application. This publication is issued with an automatic addenda service. All addenda service publications are issued in loose leaf format to facilitate later insertion of replacement pages which incorporate the latest approved changes to the standard. Purchasers may wish to purchase a binder from ASME (BPVC Binder), but the publication will also fit a standard three ring binder.
The addenda service includes all updates issued prior to publication of the next edition in July 2015.""
Cet ouvrage décrit les différentes technologies mises en oeuvre dans le soudage MIG (Metal Inert Gas = sous protection gazeuse inerte), les sources d'énergie et les gaz utilisés. Il soulève la question de la qualité et de la sécurité des processus aussi bien que celle de leur productivité et de la réduction de leurs coûts. Les auteurs ont une appoche pratique du sujet : sont présentées de nombreuses applications, dans l'industrie automobile et les équipements mécanisés par exemple.
Sommaire
Technologies. Le soudage MIG. Matériel de soudage MIG. Gaz de protection en soudage MIG. Consommables pour soudage MIG. Soudage FCAW (soudage avec fil fourré). Soudage MIG pulsé. Brasage MIG. Questions de qualité et de sécurité. Amélioration de la productivité du soudage MIG/MAG. Évaluation de la qualité des soudures en soudage MIG. Hygiène et sécurité du travail en soudage MIG. Maîtrise des coûts du soudage MIG. Applications. Soudage MIG des aciers vêtus et non revêtus. Soudage MIG d'acier inoxydable. Soudage MIG de l'aluminium et des alliages d'aluminium. Matériel et équipements pour le soudage MIG robotisé. Optimisation du soudage MIG robotisé. Applications du soudage MIG robotisé dans l'industrie automobile. Applications du soudage MIG robotisé à la fabrication de véhicules lourds.